Produce & Consult
produce & consult
At Content That Moves we create interactive stories that connect organizations to audiences and constituents, working with clients to understand their communications challenges and crafting innovative solutions that meet their needs.
Develop & Explore
develop & explore
the annexe is our behind the scenes development area, where we explore and prototype ideas we feel may be of use in our work. We continually push the boundaries of what's possible – and you get exposed to new thinking without the cost or risks associated with experimentation.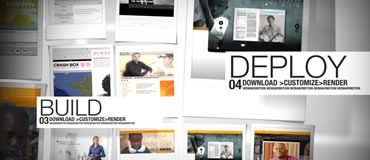 Report & Post
toolbox
report & post
At toolbox we write and collect content relevant to our core areas of Marketing & Internal Communications, Knowledge Management and Community Building. Toolbox keeps your finger on the pulse of the industry – and helps you explore new initiatives and innovations from experts in their fields.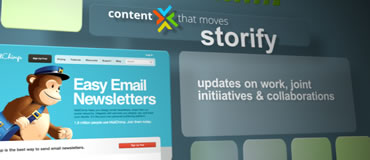 We focus on developing and executing integrated approaches to organizational storytelling across multiple screens and platforms.
Marketing Communications
Internal Communications
Knowledge Management
Community & Capacity Building
featured in the annexe
The Road to Huruma is an interactive examination of the progress made towards the Millenium Development goals. Click the picture above to take a look...
latest in toolbox
In any given sector, the sites all look the same. As a result, a little →
what we're following
sign up for toolbox…
Sign up for our newsletter and stay in touch – you'll receive excerpts of new articles posted to toolbox, as well as invitations to explore ideas we're testing out in the annexe. We won't inundate you with e-mails and you'll be able to tailor your subscription to the subjects of interest to you. And of course, we won't share your e-mail address.